Piab designs innovative vacuum solutions that improve the energy-efficiency, productivity, and working environments of vacuum users around the world. As a reliable partner to many of the world's largest manufacturers, Piab develops and manufactures a complete line of vacuum pumps, vacuum accessories, vacuum conveyors and suction cups for a variety of automated material handling and factory automation processes.
Shop Piab Online
Suction Cups
Using suction cups is a lifting technique of many possibilities. You can, for example, handle board materials or concrete slabs, open bags, pick electronic components, label and hold objects. But different applications need different requirements. Piab offers one of the market's widest ranges of suction cups so that each application will have its own solution. You are welcome to tell us about your needs. We are your partner whatever your needs might be.
Vacuum Pumps
Piab vacuum pumps/vacuum generators are predominately based on the patented COAX® technology. COAX® is an advanced solution for creating vacuum with compressed air. Based on Piab's multistage technology, COAX® cartridges are smaller, more efficient and more reliable than conventional vacuum ejectors, which allow for the design of a flexible, modular and efficient vacuum system. A vacuum system based on COAX® technology can provide you with three times more vacuum flow than conventional systems, allowing you to increase speed with high reliability while reducing energy consumption.
End of Arm Tooling
The EOAT and gripper systems are used to design robotic end-effector tools, ergonomic tools or fixture tools for use on all types of automation equipment. The tooling consists of connecting parts for welded frames or extruded profiles and swivel arm assemblies, grippers with a choice of various "function" attachments. Some function attachments include a vacuum ejector that is based on the latest COAX® technology. Piab provides both round and square EOAT as there are advantages with both options. To maximise the flexibility, our components are modular and adjustable and can be combined into a specific tool from the components. With our great expertise we can also provide tailor made solutions for various applications in the automotive, plastics and food industries.
Kenos Foam Grippers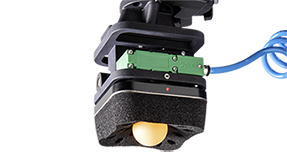 Kenos® is a leading brand for large area vacuum grippers. It is designed and optimized to be used in various applications e.g. packaging, wood, food etc. The product group represents a flexible solution for the handling manipulation of several products with different shapes, dimensions and compactness. Most of the gripping systems can be equipped with integrated vacuum generation or suitable for separated vacuum generation (Pump or Side channel blower). The integrated vacuum generator is a modular multi-stage COAX® ejector of easy maintenance and the market's most energy efficient ejector technology. The number of ejectors can also very simply be increased even after the installation if necessary. The mat of the KVG gripping system is made of a technical foam (FDA mat approved available), with different pitch holes and thickness. As an alternative KVG120C can be equipped with suction cups, size 35-60 mm from the DURAFLEX® or Value Line® series.
Vaculex Ergonomic Lift Assist
Ergonomic handling solutions are available to meet the demands of all kinds of applications and can lift almost any type of product; parcels, baggage, sacks/bags, boards, glass, kegs/barrels, bottles, food, stone, windows etc. Depending on its purpose it is available in various number of combinations. With standard, as well as custom made suction feet with its high-quality suction cups, you can lift almost everything. As is proven to reduce strain injuries, being user friendly as well as keeping top quality promises, it will increase productivity of the application.
Products You Need,
When You Need Them.